My name is Rebecca and I am a nail-biteaholic.
I have been biting my nails for longer than I can remember and I hate it. In particular, I bite them when I am stressed or bored and not only is it ugly, its quite painful at times too! I don't want long talons or anything but I would like healthy, strong nails that are a sensible length so I can start experimenting with patterns and sparkles and things on my nails.
So I have made a very late new years resolution. This is the year I am going to stop. I have almost finished at university, I only have my dissertation left to hand in, so I thought what better time than now to start attempting to quit.
If I succeed I will treat myself to a manicure for my Grad Ball on Saturday 21st July. The clock is ticking!
I am predominantly going to be using Mavala Stop Biting. You paint one coat on your nail everyday and the taste is designed to make you take your fingers out your mouth before you start biting. Because I am a dedicated blogger and I love you all I am going to test it.
Verdict: It smells pretty gross, a bit sicky even. The taste is like a combination of lemon and ear wax and it leaves a stinging sensation on your tongue. I can't say I will be in a hurry to lick it again!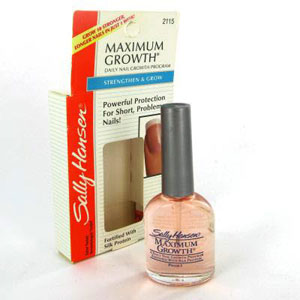 Once I have kicked the habit of biting the nails using Mavala I will need to build strength up in my poor broken nails. I am going to be using Sally Hansen Maximum Growth daily nail treatment. The "exclusive silk protein formula" is designed to strengthen, protect and give flexibility to soft, weak and bitten nails so they can grow longer and stronger. I have a lot of faith in Sally Hansen products and have found them to be excellent in the pas,t but I am sceptical that I will see "visible results in 1 week".
I shall report back in a week or two to let you know how I am getting on. Wish me luck!
- Rebecca A